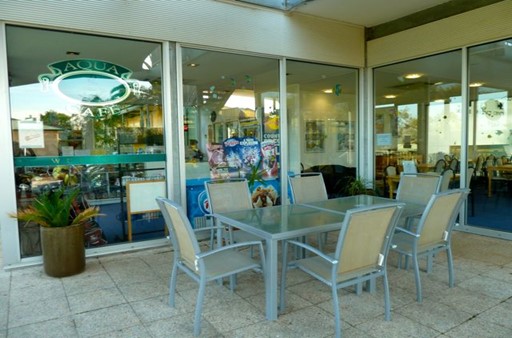 Rise & Shine
EGG AND BACON ROLL $7.50
FRIED EGG & MIDDLE BACON ON A MILK BUN
ADD TASTY CHEESE $1.00
HASH BROWN $2.50
GOLDEN AND DELICIOUS
TOASTED TURKISH BREAD $7.00
SERVED WITH BUTTER AND VEGEMITE
BASIC BREAKY $16.50
FRIED EGGS, MIDDLE BACON, HASH BROWN & BAKED BEANS ON TOASTED TURKISH BREAD.
SCONES $8.50
MADE FRESH EACH MORNING, TWO SCONES SERVED WITH JAM & CREAM
MUFFIN OF THE DAY $4.00
SERVED WITH BUTTER
Hot Stuff
HOT CHIPS $6.00
SERVED WITH TOMATO SAUCE
WEDGES $8.00
CLASSIC POTATO WEDGES SERVED WITH SOUR CREAM & SWEET CHILLI
CHICKEN NUGGETS $8.00
4 X NUGGETS WITH HOT CHIPS & TOMATO SAUCE
JUST NUGGETS $10.00
10 X NUGGETS WITH TOMATO SAUCE
FISH 'N' CHIPS $15.00
BATTERED FLATHEAD, CHIPS, TARTARE SAUCE & A WEDGE OF LEMON
Burgers
SERVED WITH A SIDE OF FRIES
BEEF BURGER $16.50
BEEF PATTY, CHEESE, BEETROOT, RED ONION, TOMATO, LETTUCE, MAYO & BBQ SAUCE
CHICKEN BURGER $16.50
SOUTHERN STYLE CHICKEN, CHEESE, LETTUCE & MAYO
VEGGIE BURGER $15.50
SPICY VEGETARIAN PATTY, CHEESE, MAYO, RED ONION, TOMATO, BEETROOT & LETTUCE
PLEASE ADVISE STAFF OF ANY FOOD
ALLERGIES WHEN ORDERING SO THAT ALL
CARE CAN BE TAKEN IN THE PREPARATION
OF YOUR MEAL.
Turkish Toasties
SERVED IN A BIG TURKISH ROLL
HAWAIIAN $14.00
HAM, CHEESE, PINEAPPLE & MAYONNAISE
CHICKEN $14.00
CHICKEN, CHEESE, MAYO, RED ONION & SPINACH
BLT $14.00
MIDDLE BACON, TOMATO, LETTUCE & MAYONNAISE
DELUXE VEGO ROLL $14.00
MUSHROOMS, SPINACH, RED ONION, 2 HASH BROWNS & VEGAN CREAM CHEESE
Pancake Tuesday
PANCAKE BUFFET WITH A VARIETY OF
YUMMY TOPPINGS TO CHOOSE FROM.
ADULTS $10.00 pp
10 & UNDER $6.50 pp
8.30AM & 9.30AM SITTINGS
(BOOK YOUR SPOT BY 4PM MONDAY)
*PLEASE NOTE: DURING PANCAKE MORNING OTHER MENU ITEMS WILL BE UNAVAILABLE.
Toasted Sandwiches
YOUR BASIC TOASTED SANDWICH
ON WHITE OR MULTIGRAIN BREAD
ONE FILLING $6.00
TWO FILLINGS $7.00
THREE FILLINGS $7.50
FOUR FILLINGS $8.00
CHOOSE FROM:
TASTY CHEESE
HAM
TOMATO
RED ONION
CHICKEN
SPINACH
MAYONNAISE
VEGAN CREAM CHEESE
Healthy & Fresh
GREEK SALAD $15.50
LETTUCE, TOMATO, CUCUMBER, RED ONION, FETA , OLIVES & TZATZIKI
ADD: CHICKEN $3.00
GARDEN SALAD $13.50
LETTUCE, TOMATO, CUCUMBER, CARROT, BEETROOT, RED ONION & HOMMUS
ADD: CHICKEN $3.00 ADD: TUNA $3.00 ADD: FETA $2.00
SALAD SANDWICH $7.00
MAYO, CUCUMBER, TOMATO, RED ONION, BEETROOT, CARROT AND LETTUCE
ADD: CHICKEN $1.50 – HAM $1.00 – CHEESE $1.00
205 Browns Road, Boneo 3939, Vic
P.O.Box 403, Rosebud 3939, Australia